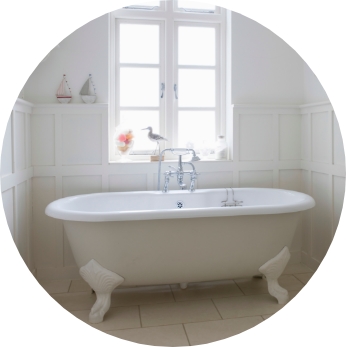 MODERNIZE YOUR VINTAGE TUB
Professional Bathtub Resurfacing in Livonia, Michigan
---
For over 20 years, Surface Solutions has built a reputation as Livonia's premier tub and tile refinisher. We offer a wide range of surface improvement services including refinishing, resurfacing, and reglazing on all types of surfaces in your bathroom. We provide the same high-level results as traditional bathroom remodeling, but at a fraction of the cost. Get the tub and tile you've always wanted today.
SCHEDULE A SERVICE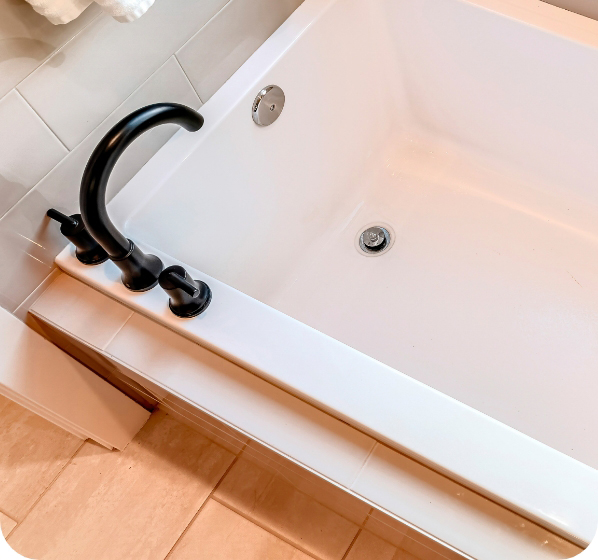 Professional Resurfacing Makes Your Tub Safer
---
Resurfacing your bathtub can also make it safer. Over time, the surface of your bathtub can become worn, discolored, and even cracked, which can create an unsafe environment.
Resurfacing your bathtub can help eliminate these issues and provide a smooth, non-slip surface that is safer for you and your family. Our resurfacing products can include anti-slip properties that further increase the safety of your bathtub.
By resurfacing your bathtub, we restore its original beauty and make it a safer place for you and your loved ones to relax and unwind. It is a cost-effective and eco-friendly solution.
VIEW OUR BATHTUB RESURFACING PROJECTS
Benefits of Bathtub Resurfacing
Cost-effective
Time-saving
Reduces landfill waste
Non-slip surface
Eco-friendly
Extends bathtub life
Surface options
Long-lasting solution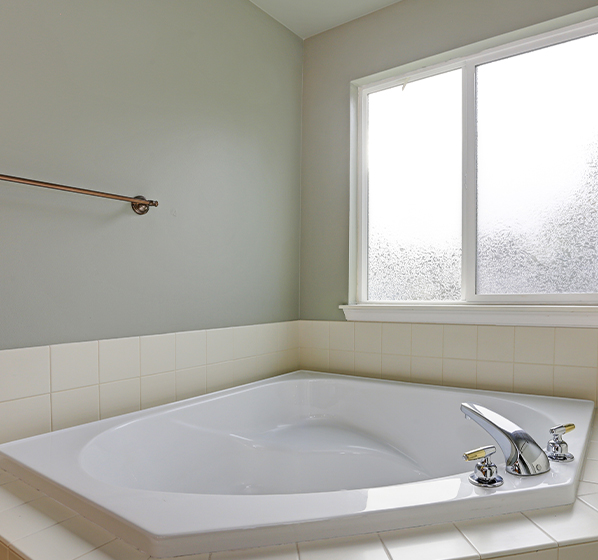 Why Resurface Your Tub Instead of Replace It?
---
If you have an outdated bathtub, you may wonder whether to replace or resurface it. Replacing your bathtub is expensive and time-consuming. Resurfacing your bathtub is a cost-effective and efficient solution that can make your tub look and feel like new.
Resurfacing your bathtub involves applying a new coat to the surface of the tub. It eliminates chips, cracks, and stains, and provides a non-slip surface that improves safety.
Resurfacing your tub is cheaper than replacing your tub, which includes removal and installation costs. Resurfacing also has eco-friendly benefits as it reduces the amount of waste that would be generated by replacing your tub.
Bathtub Resurfacing FAQs
What is the Difference Between Refinishing and Reglazing a Bathtub?
These terms are used interchangeably often in our industry. Simply put, reglazing is the final step in the refinishing process where we apply our glazing substance to the outermost layer of the tub. Refinishing is a term used to describe the process of giving an existing tub a makeover by repairing the various imperfections.
How Long Does it Take a Bathtub Reglazing Project to Fully Cure?
The professionals at Surface Solutions recommend letting the bathtub surface cure for 24 to 48 hours at minimum, and making sure that the space is properly ventilated and/or temperature controlled. Depending on the air conditions, it could take longer so please be sure to consult with your reglazing professional for an accurate timeline. Once the tub surface has fully dried, it is safe to use once again. To find out the exact drying time, you should ask the reglazing professional.
How Long Will My Bathtub Reglazing Project Last Before I Need to Reapply?
It is estimated, on average, that most DIY reglazing projects will last only 3 years once application is complete. However, hiring the professionals at Surface Solutions to reglaze your bathtub with a standard tub reglazing project can extend the life of your tub for up to 15 years!
What is the Best Material for a Bathtub?
Professionals use polyurethane to reglaze a bathtub. It's durable and provides a clean looking finish to your tub.